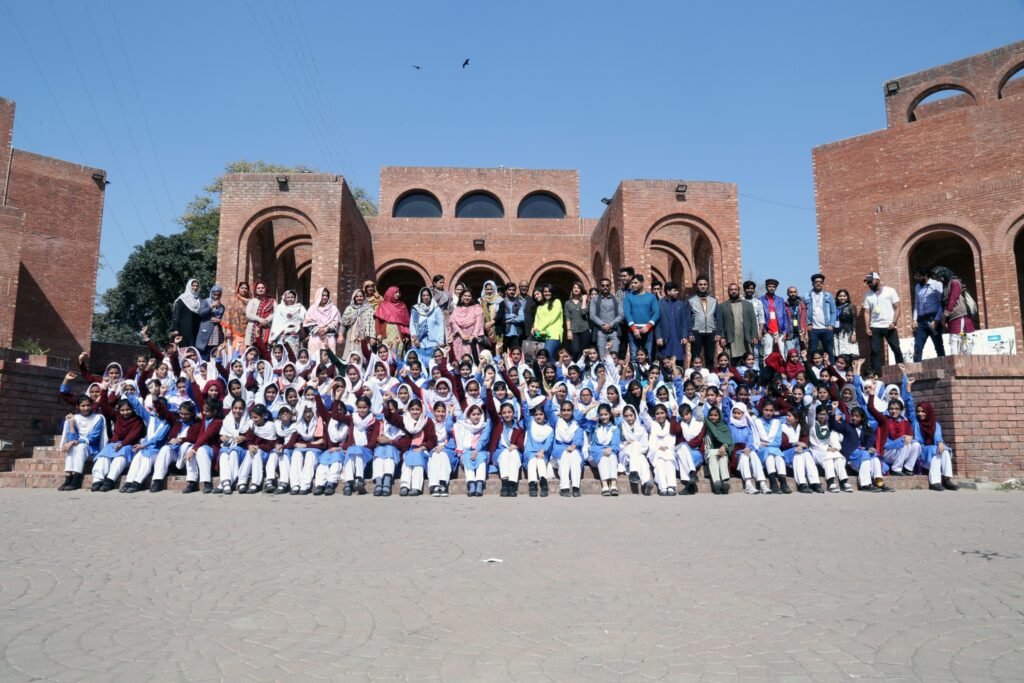 LB02 Youth Forum
The Youth Forum initiative of the Lahore Biennale Foundation (LBF) actively engages with younger audiences that include in-school and out-of-school children, through public and private sector schools from across Lahore. The Youth Forum is a free educational resource and community building program that aims for inclusion beyond socio-economic boundaries. For this, LBF works with different institutional partners. The objectives of Youth Forum are to encourage creativity and develop critical thinking skills, as students experience art beyond their screens and textbooks. Students interact with maps, architecture, and exhibition design, and develop experiential and imaginative learning. 
The Youth Forum program included over 5,000 students under the age of 16 over two weeks through curated tours, workshops and artist talks at 6 Biennale sites including PILAC, PIA Planetarium, Lahore Fort, Tollinton Market, Lahore Museum, Punjab University and Bradlaugh Hall. 90% of the participating students are currently attending public schools in Lahore where 97% were female students. Sessions included a talk by Murad Ras, Punjab Education Minister;  Saman Rai, Executive Director PILAC; Iftikhar Dadi, Associate Professor in Cornell's Department of History of Art; and Visual artists Imran Ahmad Khan and Ayesha Zulfiqar.
The Youth Forum was curated by Aimon Fatima.
Aimon Fatima is an anthropologist and heritage manager who works actively with indigenous communities and young adults from lower opportunity backgrounds. Her particular focus is to design capacity enhancement programs by augmenting diversity, peace and pluralism amongst the youth in Pakistan through inclusive cultural projects.