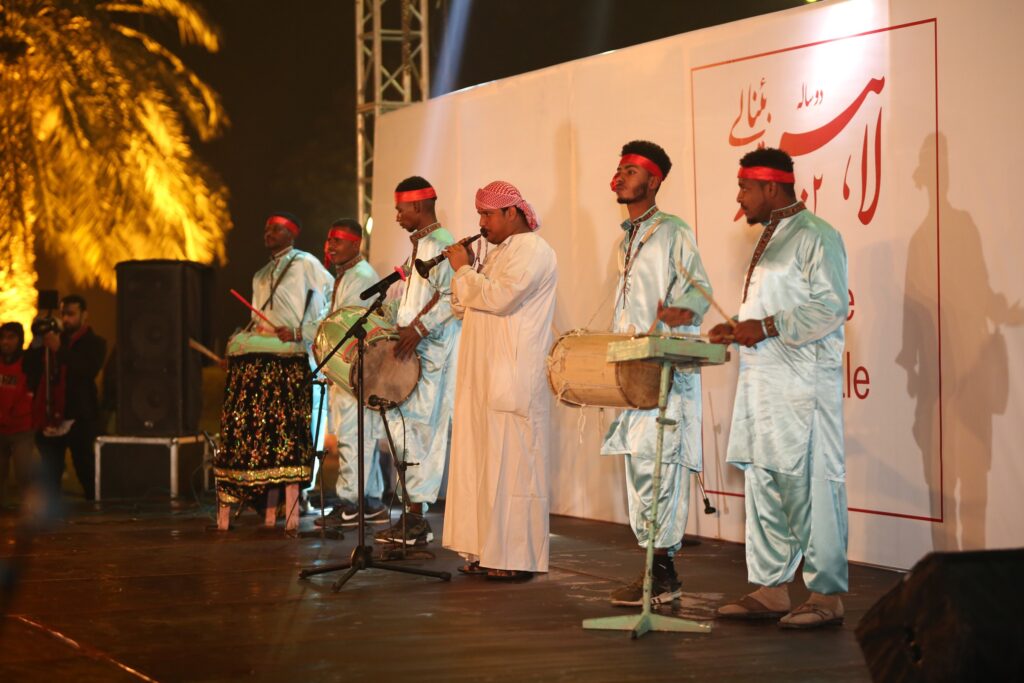 LB02 Performing Arts Program
The Performing Arts Program of the second edition of the Lahore Biennale (LB02) was a new addition to the programming where audience experienced a musical journey starting from the Northern Mountains of Pamir (Gilgit) to the southern coasts of Balochistan (Makran) – a journey that creatively recalls the mutual linkages of West Asia, Central Asia, South Asia and Africa. 
Over the course of time, the people of the global South have expressed themselves with musical notes that transcend beyond physical form and amalgamate communities from diverse backgrounds. This process of unification is strongly related to the fluid nature of water that flows beyond geographical boundaries and unites populations. The Goddess Sindhu (River Indus) glided across South Asia creating trade routes and nurturing civilizations, the collaboration of various trading nations gave birth to multi-layered musical expressions and instruments that were rooted in regional tradition and created space for global innovation. 
The theme of LB02 Performing Arts Program was Love, Longing and Pain – a musical journey across Pakistan. The music program was curated by Aimon Fatima, an anthropologist and media anchor with a keen interest in documentation, preservation and promotion of intangible cultural heritage of Pakistan.
Borendo – Sindh
Zulfiar Lund accompanied by
Mohammad Khan on Dholak
Ginan – Gilgit-Baltistan
Nagma-e-Israfeel
Lewa – Balochistan
Sheedi Group
(Zulfiqar Hussain and Troupe)
Sarinda – Khyber Pakhtunkhwa
Ejaz Sarhadi
accompanied by
Waseem Sakhi on Rabab & Sattar
Khan on Tabla
Bhakti Bhajan – Punjab
Krishan Lal Bheel and Troupe
(Javed Jee, Sitara Lal, Manzoor Jee,
Shambu Lal, Abdul Hakeem, Saba Riaz,
Manzoor Jee, Kheeta Jee,
Mannoo Jee, Talba Ram)